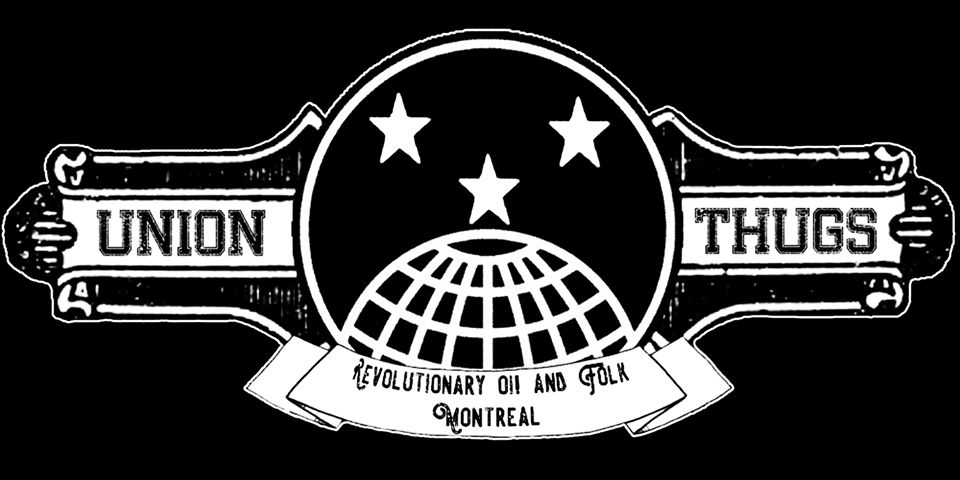 Hello Everybody! We are the Union Thugs, A Labor Folk band based in Montreal. Let's get this out of the way, we are not musicians, but workers that play music. We travel far and wide looking for people like us, who are part of the working class and are pissed off!
Pissed off to always see the same fat cats getting all the wealth while our conditions stall or get set back. Pissed off to witness condos upon condos being constructed in the city while people still sleep in the streets. Pissed off to see that when we rise up, we're getting stomped on by back to work legislation, the police and their batons.
Friends we come to you with a message. We are fed up and we want change! We don't think that this change will come from ballots. Ignoring the problem and participating obediently and quietly will do us any good.
We think it's through organizing our workplaces, our neighborhoods to take back control. To produce by the community for the community, without bosses to steal the fruits of our labor.

For this to work, we have to stop being afraid of differences, namely : religion, sexual orientation, skin color, gender, native language, among others. No, we have to realise the truth! The true enemies are the bosses that exploit our labor, landlords that harvest our rents every month, bankers that put us in debt and shareholders that throw workers out on the streets by voting to close a plant at the last board of directors meeting, It's also politicians that introduce themselves as heroes of the people, but once they are in office they'll cater to capital's needs.
It's high time we trust ourselves and we clean this mess up, It's time for the revolution! If we organize properly, we'll just have to cross our arms so every single person stops working to see that old world crumble like a sand castle, we'll clean up the rubble after.