Back in 2010, we released a corker of an album by Cambridge, a great political hardcore outfit from British Columbia. They have long since broken up and leader singer/guitarist Jesse LeBourdais has carved out quite a name for himself as a solo act. The album was "This Is Not A Victory" and we said of it:
Hailing from Vancouver, BC, CAMBRIDGE plays a brand of punk rock that is hard to encapsulate. Mixing politics, social maladjustment, and personal anger with speed, melody and hardcore ethics, they hold true to the DIY roots and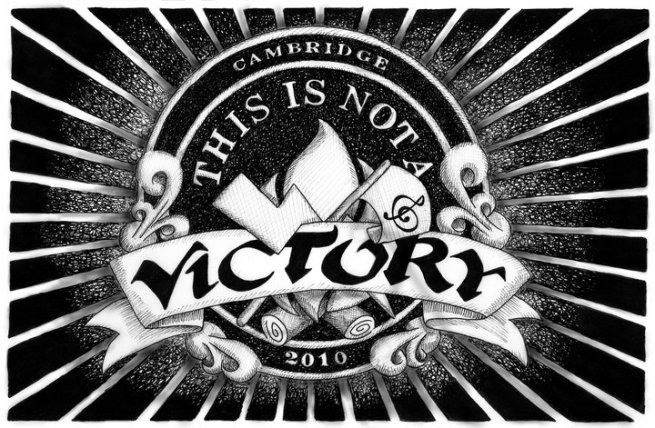 styles of the past while pushing the envelope of originality. Their second full length release THIS IS NOT A VICTORY is 10 incendiary tracks, all at break-neck speeds, dealing with topics like torture, heartbreak, war, corporate greed, environmental catastrophe and other betrayed ideals. The passion in the lyrics resonates and the anger on the surface is matched by music that will have you banging your head, raising your fist and singing along. THIS IS NOT A VICTORY reminds you that punk rock doesn't have to be resigned to simple songs, with simple messages, and that anger and music combined can be a unifying, positive experience.
In the spirit of 'giving the people what they want,' and due to overwhelming demand, the band has now made all their music, including "This Is Not A Victory" available for free download at their Bandcamp page or the Bandcamp page.
Don't delay, download today!
"These chaps are Canadian. Which is not a bad start. They play a rough-and-ready mix of the more melodic end of hardcore, like a speeded up Jawbreaker, or a furious Hot Water Music, or a slightly more demonic Good Riddance. Save, instead of songs about angst and emo and whatnot, they're suitably indignant about covert torture programs and coporate malfeasance. As one well might be. Don't have to be Canadian to pen such gloriously melodic defiance, but apparrently it helps. Apparently this is their second full-length. Good family men (wives and girlfriends are the first on the thanks list), which makes me want to check out their first (and hopefully third) record even more. Though, to be honest, I wouldn't expect anything less from the rather stupendous Rebel Time Records" (Maximum Rock N Roll)
"Cambridge released their second full length album this summer on Rebel Time Records. The Vancouver bands new release, titled This is Not a Victory, contains ten tracks of fast-paced, melodic, and politically-charged punk rock. Known for their distinct and complex sound, Cambridge carries forward their own brand of fiery hardcore anthems in This is Not a Victory, while assaulting injustice at every turn. The albums lyrics deal with issues such as torture, war, democracy, corporate greed, and the environmental disaster that is the Albertan tar sands. Pretty heavy stuff. Yet, anyone who has seen Cambridge live can attest that they appear to have a hell of a lot of fun railing against such injustices and, hopefully, inspiring action through their chosen medium, and this comes across in their music. This is Not a Victory is a reminder that punk rock and resistance go together, and that the notion that all punk sounds the same is a fallacy which is ridiculous to the extreme. Favourite tracks: Kubark, Neverending Story, Middle of Nowhere." (Rebel Youth Magazine)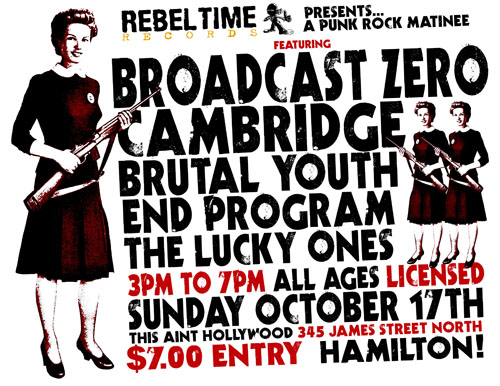 "Quick punk licks and fast beats. Say hello to melody people, Cambridge aren't afraid to say what they think and stick up for what they believe in. With political overtones draped over every song, Cambridge preaches a little louder than I am able to hear, but that doesn't mean it ever stops being good tunes, it just means that I'm a stoner with the attention span of a small gerbil. But this gerbil was running on his wheel the whole time that Cambridge's second full length album was playing. Jesse LeBourdais belts out strong vocals throughout the album with a vast range of highs and lows the have you visualizing the spittle flying across the room. The same could be said for the drums that go from fast to faster. Add some solid bass and speedy guitar action and you've got yourself one hell of an album. This Is Not A Victory is some of the band's finest work to date, and their hard work paid off getting them signed to Rebel Time Records. Cambridge has been around for over five years now and hopefully they'll have the energy and the gusto to be around for five more."

  (Absolute Underground)