Krav Boca: quite simply: a potent blend of internationalist d.i.y. political punk rock and hip hop … guitar / bass / drums / mandolin … french / greek / moroccan …
From the band's bio:
"Krav Boca rioters perform always hooded ! Pushed by a powerful guitar-bass-drums-mandolin, the 3 masters of ceremony invade the stage with greek and french lyrics : neither punk, nor rap or metal, but definitely a combination of all three.
After four albums, "Sanatorium" (2015), "Canette à la Mer" (2017), "Marée Noire" (2019) and "City Hackers" (2020), the band comes back with "Barrikade" in 2021 and continue to multiply tours all over Europe. Into the pit, on stage, on a playground or in the street, the watchword remains : CHAOS !
No Racism, No Sexism, No Homophobia"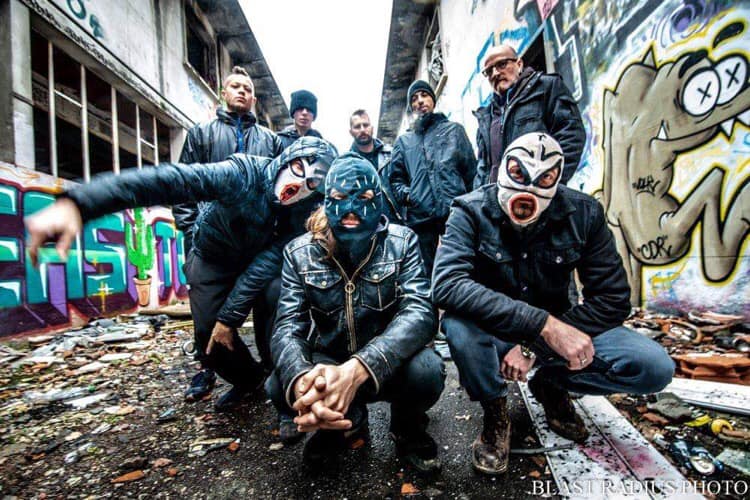 "Krav Boca is a gloomy French-Greek-Moroccan union bringing political hip-hop to new horizons with the energy of rock'n'roll. Pushed by a powerful guitar-bass-drums-mandolin ensemble, the three always hooded masters of ceremony invade the stage with greek and french lyrics : neither punk, nor rap or metal, but definitely a combination of all three."
"You may not have heard of Krav Boca, an eight-piece, French, Greek, Moroccan, punk, and rap group – yes, really – but their DIY ethics and crushing blend of aggressive music has been tearing up Europe for the last four years. Their latest record, City Hackers, dropped on May 1, 2020, and spotlights the band's devastating riffage and anthemic vox (delivered mostly in French, from what I can tell). Sporting three singers, one performer, and four musicians playing drums, guitar, mandolin, and bass, Krav Boca pushes a bold and eclectic sound to places rarely heard in the mainstream realms of punk or rap."