Here at Rebel Time Records, we're big fans of Union Thugs … revolutionary oi and folk out of Montreal … former members of great bands like Action Sedition and Mayday.  Honored to have had them play a number of our shows over the last few years.
They're a band that has played countless benefit shows for anti-fascist, anti-colonial, union, student movement, community organizing and other righteous causes. They are involved with the Industrial Workers Of The World (IWW). Some members are also involved in the record label Dure Realitie (a self managed and militant Montreal association that wishes to promote a revolutionary culture through artistic outlets).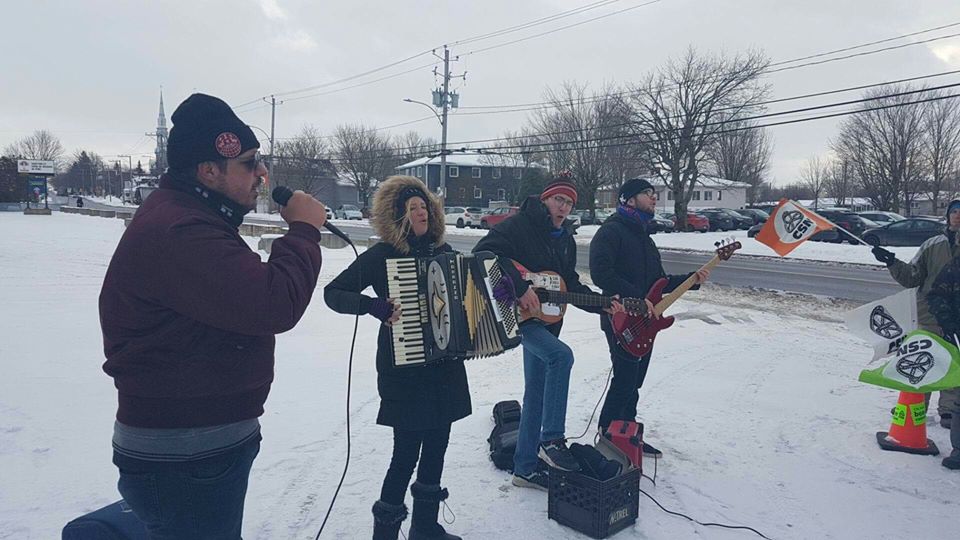 In 2018, the band released a fantastic 4-song demo:
Now, in 2020, we are stoked to be one of the labels (along with Discos Machete, Dure Realitie and Fire And Flames) helping to put out their upcoming release "Folklore Ouvrier."
Here's the song "Les Piqueteuses De La Gloire," one of the tracks that will be on "Foklore Ourvier":
And, here's the first video for the song "Partisan" …
The band says: "composed for the first time in 1943 in the heart of the 2nd World War, the song was re-popularized by Leonard Cohen during the 90s. We are taking it up here in homage to antifascists from all over the world.
Freedom will come soon and we will emerge from the shadows … "
Oh the wind, the wind is blowing; Through the graves the wind is blowing Freedom soon will come; Then we'll come from the shadows
Les Allemands étaient chez moi; Ils me dirent "Résigne-toi" Mais je n'ai pas peur; Et j'ai repris mon arme
Personne ne m'a demandé; D'où je viens et où je vais Vous qui le savez; Effacez mon passage
J'ai changé cent fois de nom; J'ai perdu femme et enfants Et je tourne en rond; Dans la prison des frontières
Un vieil homme dans un grenier; Pour la nuit nous a cachés Les Allemands l'ont pris; Il est mort sans surprise
Hier encore, nous étions trois; Il ne reste plus que moi Mais j'ai tant d'amis; Et j'ai ma classe entière
Oh the wind, the wind is blowing; Through the graves the wind is blowing Freedom soon will come; Then we'll come from the shadows
From their bio:
"Considering themselves first and foremost as workers and then as musicians, the Thugs are six syndicalists who moonlight as a six-piece revolutionary folk band. Union Thugs has a specific goal: to rock folk songs and folk rock songs in order to present a revival of classic popular and working class songs with an original flavour.
​
​ Averaging thirty concerts a year, the Thugs go where the fight calls them. The Thugs have been known to play concert venues, general assemblies, bar scenes, outdoor festivals, picket lines, you name it! With a set packed by covers of the likes of Woody Guthrie, Utah Phillips, Vilain Penguin, Corrigan Fest, Angelic Upstarts, Molodoi, Brigada Flores Magon and many others, the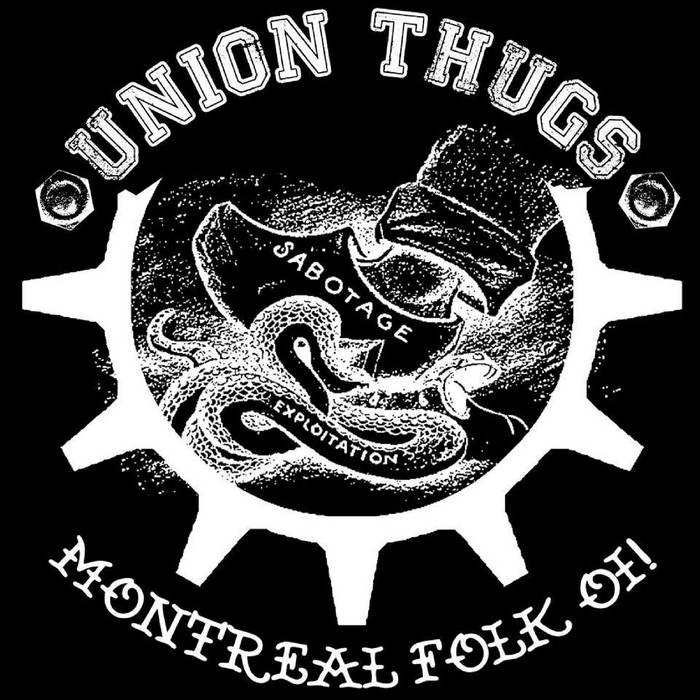 Thugs deliver an inspiring message of syndicalist revival that puts the emphasis on a boundless Solidarity. Through music, they continue to carry this message further, louder, and stronger.
For a union for all workers,
For industrial democracy and the 4 hour workday,
Abolish the wage system,
Down with a society based on class division,
For a fucking good Rock n' Folk show!
SOLIDARITY!"
Here's an excellent min-documentary about the band … :