(While Mossin Nagant weren't an official Rebel Time Records band, we certainly dug them enough to get copies of their CD to distribute on this side of the pond. Here's an interview we did with the band.)
As previously promised, and without further ado, here is a bit of an interview with Basque streetpunk band Mossin Nagant. We've been listening to their latest self-titled release pretty much non-stop and have copies of it available in our bandcamp distro … 
For those of us who are  not familiar with Mossin Nagant, could you please introduce yourselves.  Who and what is Mossin Nagant?
Mossin Nagant is a streetpunk band from Vitoria-Gasteiz, basque country. Since 2003, our band has changed quite a bit during the years.  We founded our band on a marxist, anti-fascist philosophy, which reflects in our lyrics. Since then, we have had gigs in all kinds of political concerts and festivals in the Basque Country and the rest of Europe (Spanish State, Italy, London, …).
In 2005 Mossin Nagant released an album called "Redskin Sounds from Euskal Herria."  Now in 2013 you have released a new album!  It took a long time, but it is well worth the wait!! Please tell us about the new record…
Haha! Because we don't make a living of our music, there has been some fluctuation of band members – lack of time, work issues, etc. Work kills time for the best things of life. For those reasons it took us a lot of time to record and edit the album although we have been playing some of the new songs live for years. Finally we're happy with the result: the work we put into it and we managed to release a different, grown sound. We could count on people very committed to our music and we edited the album accordingly to the availability of our means. Big ups to Rusty Knife Records (France) and Rumagna Sgroza (Italy) who produced the CD-Version with us and to Brixton Records (Bilbo), Urban Hell Tattoo (Zaragagoza) and Mai Morirem (Barcelona) who produced the vinyl. The album is titled "Mossin Nagant" and has 9 songs. We hope people like it as much as we do.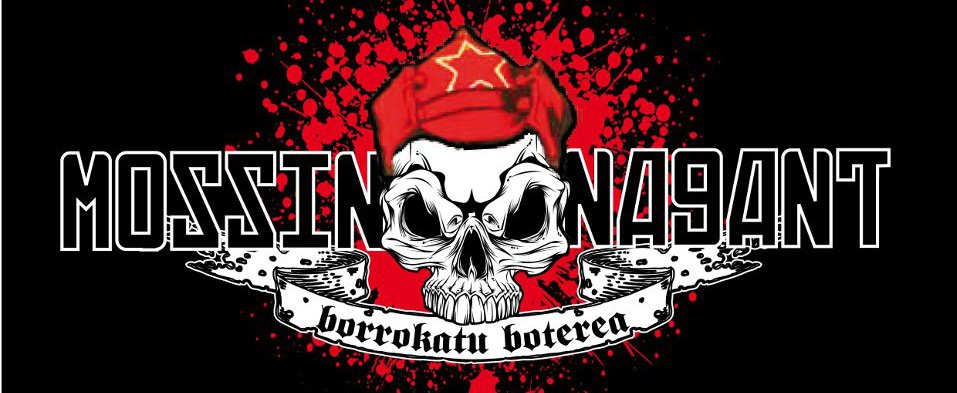 Mossin Nagant has songs like "R.A.S.H' and "Red Skins." Can you tell us what being a red skin or R.A.S.H means to you?
Being skinhead is inherently connected to the working class and its struggles. Music by and for skinheads in our view is the logical consequence and perhaps one of the most honourable forms of cultural expression. Anti-fascim is deeply rooted in our daily life and we try to reflect this in lyrics, attitude, things and acts. Some members of our groups have been active militants of local R.A.S.H. and similar social movements. Our special situation (opression by the Spanish state and living in an occupied country) has taught us to commit to the struggle for independence and to support our political prisoners.
On the song Zauri Zaharra you utilize a musical instrument called a txalaparta.  What is a txalaparta and what is it's significance?      
The Txalaparta is a specialized Basque music device mde of wood or stone. Used, in the past, as a medium of communication between valleys, nowadays it is an important reference of basque folklore. In this song we used the Txalaparta because the lyrics are about the history of our country and the necessity for revolutionary struggle and independence.
Are there other redskin/political bands that we should know about or be listening to?
Of course! The basque country is a nest of all kinds of political bands, the skin, hardcore and punk scene is active and growing. We would like to recommend you our brothers 'Boot Boys', another streetpunk group from our city and Zartako (unfortunately they don't play out anymore) from Bilbo.
We would like to send a solidarity salute to all of your people out there in Canada. Hopefully we'll meet some day in concert!