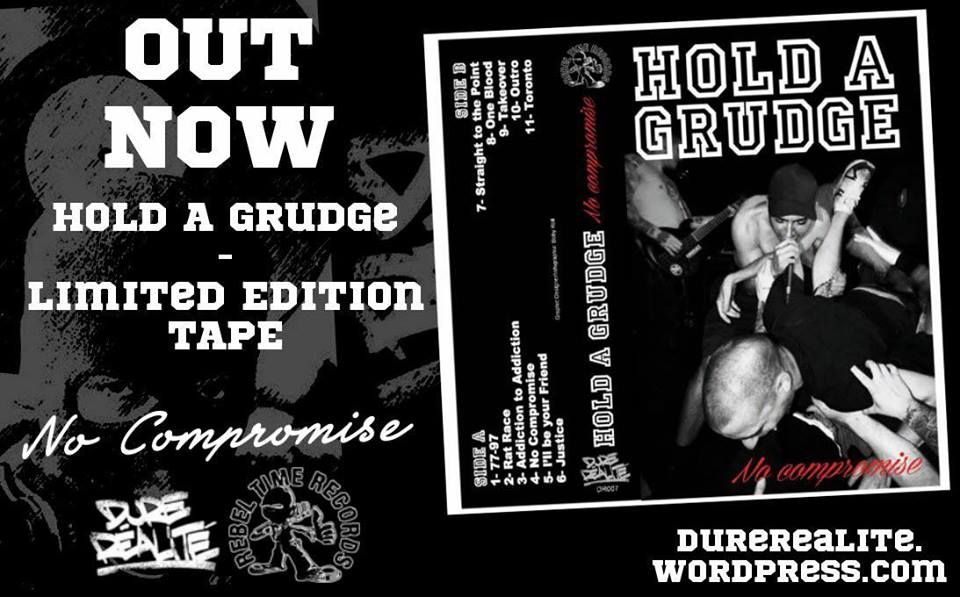 Here at Rebel Time Records it's no secret that we're all big fans of Hold A Grudge. Straight out of Montreal, Quebec, they are a perfect blend / perfect storm of punk, hardcore and oi.  Very happy to have had them play Rebel Fest a few years back!
As their bio says: "Hold A Grudge is a perfect mix of the anger of hardcore, street-punk's spirit of revolt and the uncompromising attitude of Oi."
The most recent line-up of Hold A Grudge is/was: Dan 86 on Guitar,  Jee-P 
doing up Vocals, Mat Oi on Bass and Scott on Drums. Let it be noted that these guys have played in/do play in such bands as Jeunesse Apatride, Subsistence, Shotcallers, Bastard 86, King Cans and Dynamite Express  …  seasoned veterans for sure!
Sadly, the band broke up in 2016. Happily, they did record some new material prior to their demise.  Rebel Time Records was stoked to, in conjunction with the fine folks at Dure Realitie in Montreal, release 11 of Hold A Grudge's finest tracks on a limited-edition cassette!
There are a very few copies of the cassette still available via the Rebel Time Records bandcamp page
… straight to the point / straight to the point / straight to the point / fuck you fascists …