"the people are on the march and must have songs to sing" (Pete Seeger)
… absolutely overjoyed to have Union Thugs added to the "left wing mob" that comprises the Rebel Time Records line-up / family …
Based in Montreal, and made up of members of punk/oi bands like Action Sedition, Riot Porn and Mayday, this six-piece combo plays amped-up, accordian-fueled revolutionary folk-oi. As they put it, they're here to "rock folk songs and folk rock songs in order to present a revival of classic popular and working class songs, with an original flavour."
Union Thugs concentrate on covers of working class anthems and the album is a musical journey through the pages of the revolutionary songbook. You get fighting songs / songs of solidarity and struggle, by the likes of Anne Feeney, Jaques Brunet, Leonard Cohen, The Almanac Singers (with Pete Seeger and Woody Guthrie) and Molodoi.
Band members are active in organizations like the I.W.W. (International Workers of the World), COBP (Committee Opposed to Police Brutality) and RASH (Red And Anarchist Skinheads). and they've played countless benefit shows for anti-fascist, anti-colonial, community organizing and student movement causes. More often than not, you'll find the band on the picket lines and the front lines, firing up the workers!
Folklore Ouvrier / Worker's Folklore is an exercise in international solidarity and mutual aid, with the album being released via Discos Machete (Mexico), Dure Realite (Quebec), Fire and Flames Music (Germany), Kale Borroka Records (Basque Country), Rudy's Back (France) and Rebel Time Records (Canada).
Comes with a big zine too!!
Of this release, the band says:
"A second release for the Thugs! This time, 6 songs including War on the Workers, Les piqueteuses de la gloire, Partisan, Union Maid, La complainte des ouvriers and The Preamble of SITT-IWW with banjo accompaniment.
This worker's folklore album is part of our continued effort to develop a revolutionary working culture. Though modern popular songs have been omitted from our selection this time in favour of certain classics like Union Maid and Partisan, you will still find yourself in this mix of folk and punk-rock ready to wake up the striker in you!
This short album we dedicate to strikers and those locked out, grassroots activists, militants and delegates, professional shit-disturbers, and to everyone for whom taking it laying down has never been an option! "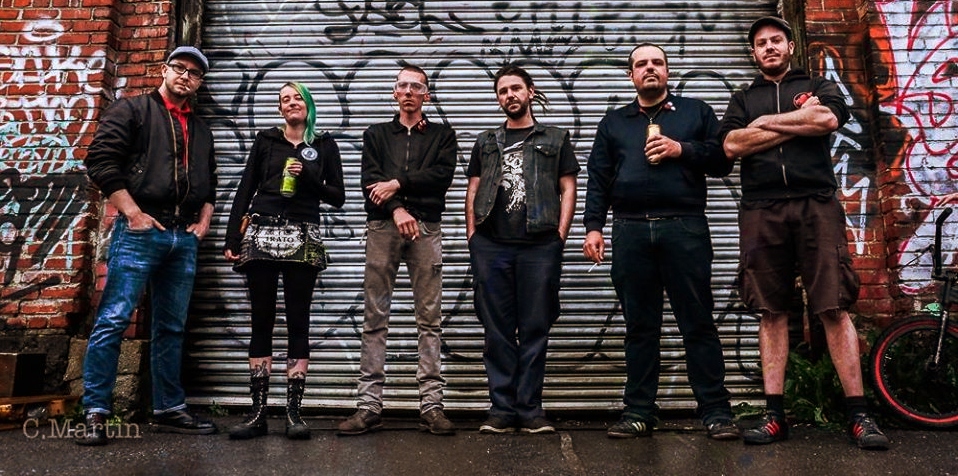 Of their mission, the band says:
"Hello Everybody! We are the Union Thugs, A Labor Folk band based in Montreal. Let's get this out of the way, we are not musicians, but workers that play music. We travel far and wide looking for people like us, who are part of the working class and are pissed off!
Pissed off to always see the same fat cats getting all the wealth while our conditions stall or get set back. Pissed off to witness condos upon condos being constructed in the city while people still sleep in the streets. Pissed off to see that when we rise up, we're getting stomped on by back to work legislation, the police and their batons.
Friends we come to you with a message. We are fed up and we want change! We don't think that this change will come from ballots. Ignoring the problem and participating obediently and quietly will do us any good.
We think it's through organizing our workplaces, our neighborhoods to take back control. To produce by the community for the community, without bosses to steal the fruits of our labor.
For this to work, we have to stop being afraid of differences, namely : religion, sexual orientation, skin color, gender, native language, among others. No, we have to realise the truth! The true enemies are the bosses that exploit our labor, landlords that harvest our rents every month, bankers that put us in debt and shareholders that throw workers out on the streets by voting to close a plant at the last board of directors meeting, It's also politicians that introduce themselves as heroes of the people, but once they are in office they'll cater to capital's needs.
It's high time we trust ourselves and we clean this mess up, It's time for the revolution! If we organize properly, we'll just have to cross our arms so every single person stops working to see that old world crumble like a sand castle, we'll clean up the rubble after."
The Punk Site had this to say about the new release:
"Montreal's Union Thugs are a six-piece combo that are on a musical journey through the pages of the revolutionary songbook, one that on their latest release includes Anne Feeney, Jaques Brunet, Leonard Cohen, The Almanac Singers and Molodoi, that is delivered in seven songs of accordion fuelled revolutionary folk punk and oi. Union Thugs are active in organizations like the I. W.W., C.O.P.B and R.A.S.H and, more often than not, you'll find them on the picket lines and the front lines firing up the workers. Union Thugs have now issued their second release, and their debut EP, "Folklore Ouvrier"", via an international coalition of like minded labels scattered across North America and Europe. The "Folklore Ouvrier" EP is delivered in both French and English, whilst I only possess a tenuous grasp of the French language the message from Union Thugs comes through loud and clear, from the opening chords of 'Intro' to the final notes of 'Preamble To The I.W.W. Constitution', a track that lays out a revolutionary manifesto.
Whilst there is a distinctly vintage feel about this EP, mainly because all but one of the songs on "Folklore Ouvrier" is an interpretation of vintage protest songs, there's an appeal for this EP for any fan of blue collar pro-union rabble rousing punk rock from Dropkick Murphys through to Mischief Brew and Gogol Bordello, with my personal highlight being their interpretation of Anne Feeney'[s 1969 protest song 'War On The Worker'. This is an EP that isn't just words, Union Thugs clearly back up their soundtrack with action and the final verse in 'Preamble To The IWW Constitution' is a sentiment that is echoed within the seven tracks of "Folklore Ouvrier". "It is the historic mission of the working class to do away with capitalism. The army of production must be organised, not only for everyday struggle with capitalists, but also to carry on production when capitalism shall have been overthrown. By organising industrially we are forming the structure of the new society within the shell of the old".
"Folklore Ouvrier" is now available for streaming and as a 'name your price' download via Discos Machete (Mexico), Dure Realite (Quebec), Fire And Flames Music (Germany), Kale Borroka Records (Basque Country), Rudy's Back (France), Rebel Time Records (Canada) and Union Thugs' Bandcamp."
(The Punk Site)